About Matthews Human Services Council
The mission of the Matthews Human Services Council is to enhance the quality of life for the people living in the Matthews area by collaborating and being the driving force with local agencies, organizations and institutions to help resolve community need.
Meetings
Any changes to our regular schedule will be announced on the Home page in the right column.
Date: Fourth Tuesday of each month; September-May
Time: 12:00 noon - 1 p.m.
Place: Location held at the Levine Senior Center*
(*unless otherwise announced)
Lunch available at a small cost (optional)
Membership: dues are $25 for current year
MHSC meetings are open to Matthews area non-profit organizations. Guests welcome.
Officers 2022-2023
President - Bill Helms
Vice President - Kathy Schumacher
Secretary - Sarah Mitchell
Treasurer - Becky Tracy
Committees
Website - Sandy Duncan
Social Media/Other Channels - Errica Redmond
Matthews Chamber - Kelly Barnhardt
Marketing and Membership - Becky Tracy & Kathy Schumacher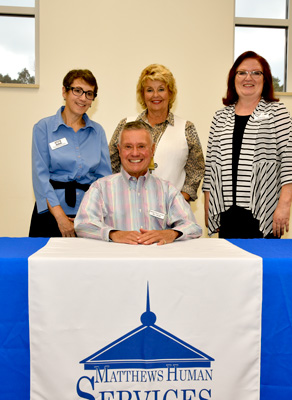 Left to Right: Marie-Michele Darcy- Secretary, Bill Helms - President, Kathy Schumacher - Vice President, Becky Tracy, Treasurer
History
While pursuing an advanced degree from UNCC, Joan Uhrich needed a project for class. Because of her job as Director of Matthews Help Center, she saw a need for coordination of activities within the Town of Matthews and for non-profit agencies and organizations to get to know one other. She contacted as many non-profits as possible and the first meeting of Matthews Human Services Council was held in March 1995.
Butch Martin was the first president of MHSC with Jerry McGuire and Carl Fischer among the earliest members.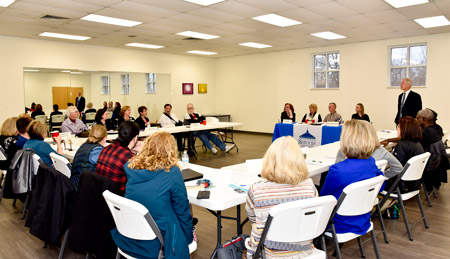 Town of Matthews Town Manager Hazen Blodgett was the guest speaker for the March meeting.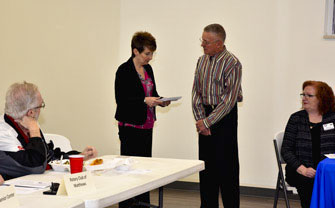 President Bill Helms presents a donation to Dahn Jenkins for the Levine Senior Center.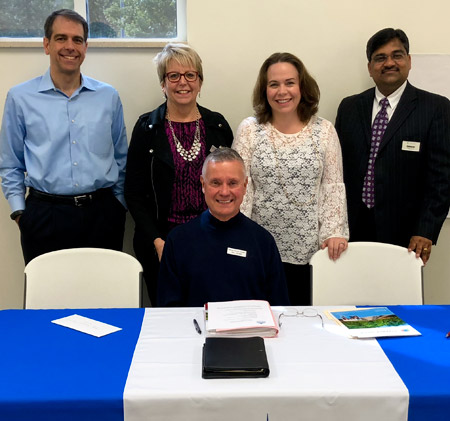 MHSC President Bill Helms with Rebecca Herbert, Community Engagement & Strategy Mgr. and her team at the Livable MECK forum presented at the October meeting.