Matthews Human Services Council
The mission of the Matthews Human Services Council is to enhance the quality of life for the people living in the Matthews area by collaborating and being the driving force with local agencies, organizations and institutions to help resolve community needs.
Photos throughout our website reflect how Matthews area non-profits are working to better individual lives and improve our community as a whole.
How to Join
Come to a meeting, send an email for more information, or mail dues to our P.O. Box. MHSC meets the fourth Tuesday of each month at the Levine Senior Center. Membership dues are $25 for one year. Open to non-profit organizations in the Matthews, NC area.
An Invitation to Area Non-Profit Organizations
The Matthews Human Services Council extends a warm invitation to area non-profit organizations. View or print letter.
Meetings
Date: Fourth Tuesday of each month; September-May
Time: 12:00 noon - 1 p.m.
Place: Location TBA - see "Announcements" at right
Membership: dues are $25 for current year
MHSC meetings are open to Matthews area non-profit organizations. Guests welcome.
Looking for assistance?
Are you looking for help in Matthews? Our member organizations may be able to help. Our member organizations provide a wide range of assistance to those in need in the Matthews, NC area. Services include, but not limited to, helping with basic needs such as food, clothing, and shelter. Other services include assistance and programs for vets, single parents, adult day care, youth programs and awards, Christian adoption, Habitat homes, hospice services, senior citizen activities and programs, medical clinic services, family support services, foster care, vision and hearing assistance referrals, Christian library, senior adult classes, senior fitness, Christian resources and children's programs, Christian afterschool and day care programs, child safety programs.
Each organization provides guidelines for criteria necessary to be eligible for the services offered by their respective organization. Please contact the individual member organization for specific details.
For an overview of our member organizations and the areas of service they provide, please see our membership page. You may contact us if you need further assistance.
Looking for volunteer opportunities?
Many volunteer opportunities exist for any individual or group wishing to provide community service in the Matthews, NC area. Our member organizations provide opportunities to serve with hands on projects and/or with fundraising opportunities within a group to raise funds for other non-profit organizations. Learn more about the members of the Matthews Human Services Council by checking our member page and connecting to member organization websites for more details.
Contact the Matthews Human Services Council
MHSC News
Nancy Glenn Community Servant Award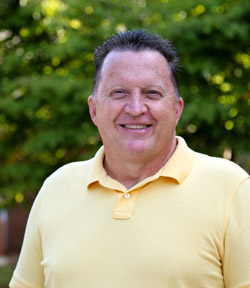 The 2022-2023 Nancy Glenn Community Servant Award recipient is Rob Hunter . The award was presented at the Matthews Town Council on July 10, 2023
The Nancy Glenn Community Services Award is being presented in honor of Nancy Glenn, a true community Servant. Nancy represented all that is good about the Town of Matthews. She gave of her heart and love through the selfless acts of time and dedication to help those in need by supporting many of our local non-profit agencies. For her outstanding commitment and service, this award is presented annually to a person who demonstrates such inspiration, dedication and commitment to Matthews/Surrounding Areas and the non-profit community.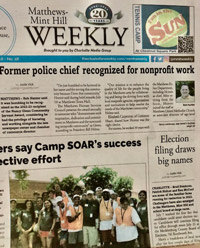 See article in the Matthews Mint Hill Weekly.
---

Habitat for Humanity Critical Home Repair Program Details

---
Congratulations to to COS Kids and Turning Point for receiving the Non-Profit of the Year Award from Matthews Chamber of Commerce, January 2021.
---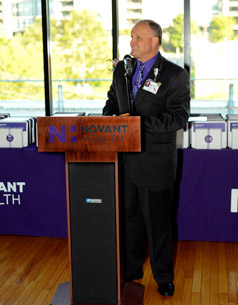 Congratulations to Roland Bibeau, President and Chief Operations Officer Novant Health Matthews Medical Center, on his retirement. We applaud his service from 1998-2020 and wish him the best.
---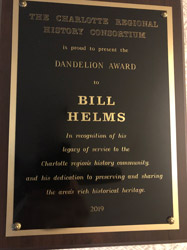 Congratulations to MHSC President Bill Helms! The Charlotte Regional History Consortium presented the 2019 Dandelion Award to Bill Helms. The award was given in recognition of his legacy of service to the Charlotte region's history community and his dedication to preserving and sharing the area's rich historical heritage.
---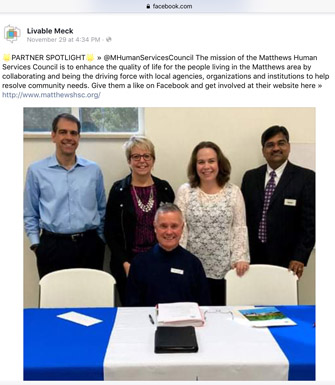 Bill Helms - President, MHSC, shown here with members from Livable Meck, featured speakers at a recent MHSC meeting
Matthews Human Services Council is the first Mecklenburg County Partner spotlighted on the Livable Meck Facebook page. Livable Meck Facebook
---